The beginning and rise of the motion picture industry in the United States coincided with a period of rapid growth and increasing prestige and resources of the Catholic Church in America. It is not surprising then that Catholics have been involved in every aspect of the moviemaking enterprise: from directing and acting, to viewing, to provoking controversy.

The motion picture industry's ambivalent relationship with Catholics began in the era of silent film. The Italian epic Quo Vadis (1913), which ushered in the dominance of feature-length films, portrayed the martyrdom of early Christians as well as the grandeur of pagan Rome. Legendary director D.W. Griffiths' Intolerance (1916) sympathetically depicted Catholic workers in contrast to hypocritical and puritanical Protestant reformers. The same film's sequence in France, however, exposed Catholicism as a cloak for the cruelty of Catherine de Medici, even as compassionate Catholic priests concealed little Huguenot girls from the bloodshed of the St. Bartholomew's Day Massacre.
Building on these earlier religious movies, producer/director Cecil DeMille became the master of the religious spectacle. The progenitor of a long line of biblical epics beloved by many Catholics but noted for their nondenominational appeal, DeMille's first foray into religious film taught him how to avoid religious controversy. Its focus on a Catholic saint notwithstanding, Joan the Woman (1917) provoked opposition from Catholics sensitive to its portrayal of wicked churchmen scheming to do away with the French maiden. DeMille therefore advised his distributors to market two versions. In predominantly Catholic enclaves, the offending scenes would be deleted; in Protestant regions, they would be retained.
When he took on the life of Christ, DeMille was more cautious. He hired Jesuit Daniel Lord to serve on set as a check against inadvertent irreverence. During the filming of King of Kings (1927), Lord offered Mass daily at the studio, which Protestant DeMille viewed as "a continued benediction on our work." The tradition of priest-as-technical advisor had been inaugurated.
DeMille once again courted controversy with his treatment of early Christianity and Rome, The Sign of the Cross (1932). The movie's portrayal of Roman opulence and sensuality were too salacious and its message of Christian triumph too muted for Catholic motion picture watchdogs. The movie furnished impetus for the creation of the Legion of Decency and stricter standards from the Motion Picture Production Code.
Catholic bishops and activists had long been concerned about the effect of movies on public morals and on American opinon about the Church. Jesuit George Dinneen gained fame organizing demonstrations against immoral movies in Chicago. Movie industry publisher Martin Quigley joined with Dinneen, Chicago Cardinal George Mundelein, and Fr. Daniel Lord to promote a code that would guide Hollywood filmmaking.
The Catholics' suggestions were adopted by Will Hays, director of the Motion Picture Production Code (and a Presbyterian). The Code had been implemented by the movie industry under the assumption that voluntary regulation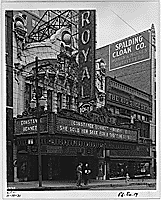 was better than federal censorship. The Code was more strictly enforced when the Production Code Administration office was created in 1934, with Catholic Joseph Breen at its head.
The Code put three specific limits on flim's treatment of religion. First, "no film or episode may throw ridicule on any religious faith"; second, no characters "in their characters as ministers of religion" could be used as buffoons or as villains; and third, religious ceremonies must be "carefully and respectfully handled."
Not satisfied with the code alone, Catholic bishops organized the Legion of Decency in 1933. In churches across the country, Catholics pledged not to attend morally objectionable movies. The Legion was effective: in many major urban markets where Catholics were both devout and numerous, the Legion's disapproval of a movie was enough to doom its box office take.

Mandated respect for clerics combined with the emerging economic and political power of Catholics gave rise to a golden age of Hollywood priest-heroes. Tough but kind priests who redeemed troubled souls dominated the era. Pat O' Brien as Fr. Jerry Connolly saved James Cagney in Angels with Dirty Faces (1938); Spencer Tracy as Fr. Edward Flanagan saved Mickey Rooney in Boys Town (1938); and Bing Crosby as Fr. Charles O'Malley saved several young ruffians in Going My Way (1944). Catholic chaplains (and the American war effort) were praised in Guadalcanal Diary (1943) and God is My Co-Pilot (1945). The stream of priest-heroes led Protestants to complain to the Production Code Office that fair treatment required some equally laudatory portraits of Protestant clergy.
Director Leo McCarey's Going My Way and its sequel, Bells of St. Marys (1945), are prime examples of the way the era's priest-hero movies elicited various reactions from Catholic audiences. For many, the films are heartwarming classics, nostaligically evoking a time when priests were among the most respected figures in the country. For others, they depict troubling Catholic stereotypes that are too true to life: Catholic obsessions with finances and real estate, parish life as social activities rather than prayer and sacraments, priests as accomplished golfers.
Catholic nuns had their golden age, too. Ingrid Bergman joined Crosby in Bells of St. Marys to form the most attractive priest-sister combination in box office history. Loretta Young was Sister Martin in Come to the Stable (1949). Deborah Kerr's Sister Angela preserved her purity opposite Robert Mitchum in Heaven Knows Mr. Allison (1957). Sidney Poitier provided the star power and won an Oscar for Lilies of the Field (1963), but
the story came from a novel about a group of German nuns setting up shop in the American Southwest. The glory days of cinematic priests and nuns were already numbered when Julie Andrews portrayed a novice who served God as well by leaving the convent and marrying Captain von Trapp in another Oscar-winning, history-based picture, The Sound of Music (1965).
With favorable treatments of Catholic themes drawing crowds, Hollywood even tackled Marian apparitions, offering The Song of Bernadette (1943) and The Miracle of Our Lady of Fatima (1952).

Meanwhile, the daughter of an Irish Catholic business executive from Philadelphia had made it big on the silver sceen with her appearance in High Noon (1952), a classic Western with cold war political overtones, in which Grace Kelly starred opposite Gary Cooper. Her persona as a romantic lead merged into real life when she married Prince Rainier of Monaco.
Another film with political implications was On the Waterfront (1954). Karl Malden as Fr. Barry convinced Marlon Brando's Terry Malloy to inform the authorities about union violence. Based on the work of Jesuit labor priest John Corridan among New York longshoremen, the movie displayed Catholic engagement with organized labor—at once supportive of its goals and critical of its corruption and communist influences. At another level it reflected Hollywood politics in Cold-War America: director Elia Kazan took heat for cooperating two years earlier with the House Un-American Activities Commission to identify communists in the movie industry.
Kazan was not Catholic, but there were a number of well known Catholics (and ex-Catholics) on his side of the camera. Among those who were active Catholics during their heydays of moviemaking were Leo McCarey, Frank Capra, John Ford, and Alfred Hitchcock. Hitchcock's contribution to the golden age of priests was darker than McCarey's, but his cleric was at least as heroic. Montgomery Clift played Fr. Michael Logan in Hitchcock's thriller, I Confess (1953).
A return to a more ambivalent presentation of priests and the Church is evident in The Shoes of the Fisherman (1968), with Anthony Quinn and Lawrence Olivier. The film treats the Jesuit philosopher Pierre Teilhard de Chardin ambiguously, and it is unclear whether the fictional Pope Kiril's heroics are intended as a criticism or a compliment to the actual Catholic Church.
Similarly ambiguous was the blockbuster of 1973, The Exorcist. The depiction of priests as spiritual warriors in a battle with all-too-real demons led one critic to call it "the biggest recruiting poster the Catholic Church has had since the sunnier days of Going My Way and The Bells of St. Mary's." Yet the transformation of a Church ritual into a teen-scream horror flick was not without its problems for a Catholic audience. In the tradition of clerical advisers, Fr. Thomas Bermingham, SJ, the Jesuit provincial for New York, played the part of the president of Georgetown University. But Fr. Patrick Sullivan, SJ, of the U.S. bishops' film office, disapproved of the movie and refused to permit its church scenes to be shot in a Catholic Church.
It was a Catholic director who decisively turned the Production Code's stipulated respect for clergy and religion on its head. Robert Altman's M.A.S.H. (1970) inaugurated a three-decade series of films that mocked Catholicism: John Travolta rebelled against the faith in Saturday Night Fever (1977); evil triumphed over good in The Omen trilogy (1976–1981); Christopher Reeve was a philandering Fr. Flaherty in Monsignor (1982); and the priests were troubled in Priest (1994).
Although usually not derisive, the image of the Church in films by cradle Catholics such as Francis Ford Coppola and Martin Scorcese was a far cry from the respectful portraits of McCarey. The two were masters of the mafia movie genre. Scorsese's Mean Streets (1972) and Coppola's Godfather trilogy (1974–1990) were filled with Catholic characters, symbols, and rituals, but priests and cardinals were more often than not corrupt or incompetent and religion was either a glossy veneer over rank immorality or, at its best, a source of guilt without redemption. In a reversal of de Mille's solicitude toward Catholics in King of Kings, Scorsese seemed more interested in provoking than quieting Catholic qualms when he offered the sacrilegious The Last Temptation of Christ (1988).
Positive depictions of Catholic religious figures could also be found in the post-Vatican II era. The subject matter of Dead Man Walking (1995) was not as rosy as Lilies of the Field, but Susan Sarandon as Sister Helen Prejean was a praiseworthy character (albeit in conflict with the film's unsympathetic priest). Prejean's defiance was a minor theme, but in The Mission (1986), opposition between Robert De Niro's heroic Jesuit and his higher-ups was a central issue and, indeed, a factor in his heroism. The mining of Latin American history for Catholic role models was accomplished again in Romero (1989).
At the beginning of the second century of American filmmaking, traditionalist Catholic Mel Gibson directed and produced The Passion (2004), an identifiably Catholic interpretation of the final days of Christ's life, which was at once an enormous box office success and the most controversial film in recent memory. Devout Catholic J.R.R. Tolkien's fantasy masterpiece, The Lord of the Rings, was brought to screen in three of the most lucrative movies of all time (2002–2004). Whether these events marked the beginning of a new era in the relationship between Catholicism and Hollywood or will be fit into that history in some other way remains to be seen.
Sources and Further Reading
G. Black, Hollywood Censored : Morality Codes, Catholics, and the Movies
G. Black, The Catholic Crusade against the Movies, 1940-1975
L. and B. Keyser, Hollywood and the Catholic Church: The Image of Roman Catholicism in American Movies
S. Vaughn, "The Devil's Advocate: Will H. Hays and the Campaign to Make Movies Respectable," Indiana Magazine of History
F. Walsh, Sin and Censorship : The Catholic Church and the Motion Picture Industry
Photos courtesy of National Archives and Records Administration (public domain)