In July of this year, the Holy Hill Shrine in Hubertus, Wisconsin was designated a basilica. It joins a list of sixty illustrious and historic American churches that have gained basilican status.*
A basilica is a church that fulfills various criteria and is granted certain liturgical privileges. Only the pope may bestow basilican status.
The first church in the United States to be designated a basilica was the Basilica of St. Mary in Minneapolis (February 1, 1926).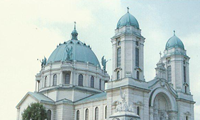 Venerable Monsignor Nelson Baker was the driving force behind the erection of a Marian shrine in Lackawanna, New York. Titled Our Lady of Victory, it was made a basilica July 20, 1926.
The third American church so designated was in St. Josaphat in Milwaukee (March 10, 1929). This was a tribute to the influence of Polish Catholicism in that region. The Polish heritage in America is also evident in the naming of two basilicas after St. Adalbert. One is in Buffalo, the other in Grand Rapids, Michigan. Poles also dominated the parish communities of St. Joseph Basilica in Webster (October 11, 1998) and St. Stanislaus in Chicopee (1991) (both Massachusetts), as well as that of the Basilica of the Sacred Heart in Syracuse (October 3, 1999).
Baltimore was the first diocese in the United States, and it is therefore appropriate that its cathedral, dedicated to the Assumption of Mary, be denoted a basilica (September 1, 1937).
Several American basilicas are attached to historic abbeys and monasteries. One of these is the Basilica of the Immaculate Conception in Missouri, a Benedictine abbey-church. Its status was conferred May 10, 1941.
Another is the Basilica of Our Lady of Gethsemani in Kentucky (May 3, 1949). It is the church of the first Trappist community of monks in the United States, whose most famous member was Thomas Merton. Monks of the Carmelite community in San Antonio built the National Shrine of the Little Flower Basilica there.
The legacy of California's missions was honored with the conferral of basilican status on Mission Dolores, San Francisco (February 8, 1952). The modern basilica stands next to the older mission church. Churches at three other mission sites were later made basilicas as well: San Diego de Alcala, San Juan Capistrano, and San Carlos Borromeo (1961).
Franciscan friars serve many of the churches mentioned above, including the California missions. Two additional Franciscan basilicas are St. Mary's in Phoenix (1985) and Our Lady of Consolation in Carey, Ohio.
The second cathedral granted basilican status was, like Baltimore, named after the Assumption. Covington, Kentucky's principal church was made a basilica December 8, 1953.
There are a number of other cathedral-basilicas in the United States. Three represent dioceses that are among the oldest in the country: St. Augustine in Florida, St. Joseph in Bardstown, Kentucky, and St. Louis, King, in New Orleans. Another cathedral-basilica is also named after St. Louis—this one in St. Louis, Missouri (1997). (It replaced the former historic cathedral of St. Louis, King, which was also made a basilica, in 1961.) Other cathedrals so honored are St. James in Brooklyn (1962), Sts. Peter and Paul in Philadelphia (September 27, 1976), Immaculate Conception in Mobile, St. Mary's in Galveston (1979), Immaculate Conception in Denver (December 25, 1979), Sacred Heart in Newark (1995), St. Francis of Assisi in Santa Fe (2005), St. Anthony in Beaumont, Texas (2006), and St. Joseph in San Jose (1997). Another Basilica of St. Joseph, in Alameda, gives California a total of six basilicas—tied with New York and Pennsylvania for the most of any state.
On December 8, 1954, the Redemptorist Fathers' church in Roxbuy, Massachusetts became the Basilica of Our Lady of Perpetual Help. The only basilica in New England outside of Massachusetts is Sts. Peter and Paul in Lewiston, Maine (May 2005), built for a parish swelled by French Canadian immigrants in the late nineteenth century.
The tenth American church to be named a basilica is another abbey-church, the Basilica of St. Vincent in Latrobe, Pennsylvania (August 22, 1955). It honors the first foundation of Benedictines in the United States. The Benedictines gained a third basilica in 1998: Mary Help of Christians in Belmont, North Carolina.
Elsewhere in North Carolina, in Asheville, is the state's first basilica, St. Lawrence (1993).
Chicago and Brooklyn are the only cities other than St. Louis with more than one basilica. In Chicago, Servite Fathers minister at Our Lady of Sorrows (May 4, 1956) while diocesan priests run Queen of All Saints (1962) and Theatines manage St. Hyacinth (2003). In addition to its cathedral, Brooklyn features Our Lady of Perpetual Help.
In contrast to these urban structures surrounded by vast cities, the Basilica of St. Francis Xavier dominates the landscape of rural Dyersville, Iowa. Named a basilica May 11, 1956, it is a testament to the German Catholic influence in the American church. There is one other basilica in Iowa: Des Moines' St. John (1989).
The Basilica of St. James is in a small town—Jamestown, North Dakota—but there is nothing small about the massive Gothic structure (1989). Another basilica in a rural setting is Our Lady of Fatima (1975) near Youngstown, New York.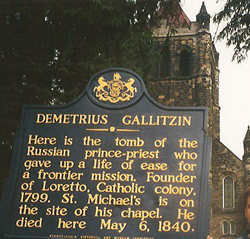 Pennsylvania's rich Catholic heritage is reflected in its six basilicas. Besides Philadelphia's cathedral and St. Vincent abbey, there are two churches that commemorate the early Catholic settlers of western Pennsylvania: Sacred Heart in Conewago Township and St. Michael the Archangel in Loretto; and two that recall the immigrant past of eastern Pennsylvania: the Slovakian Sts. Cyril and Methodius in Danville and the Passionist-administered National Shrine of St. Ann in Scranton (1996).
Just to the south of the Keystone state's border with Maryland is the shrine honoring the first American citizen to be declared a saint, Elizabeth Ann Seton. Its new chapel was made a basilica in 1991.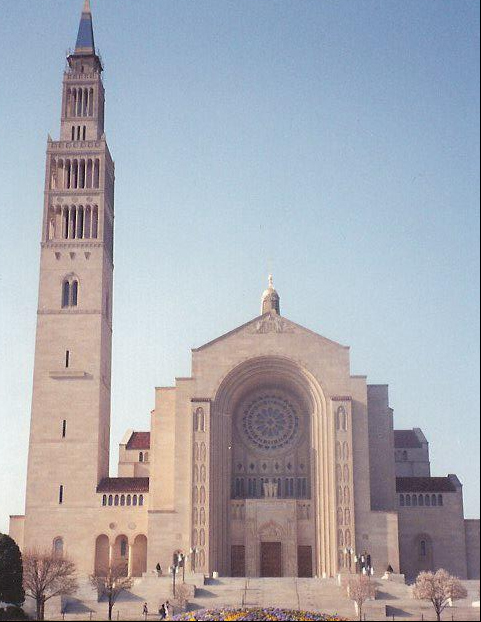 The histories of southern and black Catholicism are reflected in the story of the Basilica of St. Mary of the Immaculate Conception in Norfolk, Virginia (December 8, 1991). Hispanic Catholicism is represented strongly at the Basilica of Our Lady of San Juan de Valle in San Juan, Texas (June 12, 1999). Two other southern basilicas are St. Mary in Natchez, Mississippi (September 8, 1998) and, most recently designated, St. Paul in Daytona Beach (2006).
Besides the colleges connected to the Benedictine abbeys noted above, one other university in the United States enjoys the presence of a basilica. The steeple of the Basilica of the Sacred Heart towers over the campus of the University of Notre Dame. Indiana's other basilica is the former cathedral of Vincennes, St. Francis Xavier (1970).
Last but not least, prominent among all churches in the United States is the National Shrine of the Immaculate Conception in Washington, D.C.
* Included in this article is every American church claiming basilican status. There is a distinction to be made between churches that have an indulgence-affiliation with one of the Roman major basilicas, and those that have been formally designated as minor basilicas, but both groups are included in the list compiled here. The distinction is recognized with respect to the claim of "first basilica" in the United States, however: More information on that question can be found at the Basilica of St. Mary page.
Update: Since this article's initial posting, the following churches have also been granted basilican status: St. John the Evangelist in Stamford, Connecticut (July 17, 2009); The National Shrine of Mary, Queen of the Universe in Orlando, Florida (August 22, 2009); Sacred Heart in Atlanta, Georgia (August 21, 2010); Sts Peter and Paul in Chattanooga, Tennessee (May 3, 2011); and St. John the Baptist in Canton, Ohio (June 19, 2012); National Shrine of the Little Flower, Royal Oak, Michigan (April 22, 2015).
Posted September 2006
Sources and Further Reading
Rober F. McNamara, "Minor Basilicas in the United States"